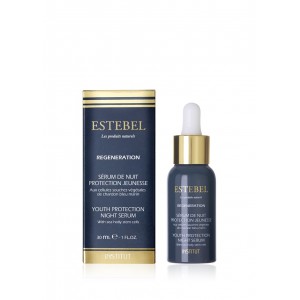 Youth Protection Night Serum
REGENERATION
With sea holly stem cells
The active plant stem cells contain essential ingredients for health such as proteins, lipids, glucides, minerals and a small amount of other molecules which can contribute to the protection of skin cells and aid with the restructuring and renewal of the epidermis.
The Youth Protection Night Serum made from sea holly stem cells helps repair your skin from the damages caused during the day and also helps it regenerate at night. It efficiently fights visible signs of aging, deeply moisturizes and provides antioxidant protection. It is enriched with active mattifying agents which refine the skin texture. You will feel the "smooth skin" effect in the morning.
Properties
• Sea holly stem cells stimulate cellular proliferation, fight the signs of aging, and create an antiradical and anti-inflammatory action.
• Hyaluronic acid provides an optimum moisturization and helps skin maximize cell repair.
• The mattifying complex, a combination of Enantia Chlorantha extract (African tree) and oleanolic acid, decreases the size of pores, refines the skin texture, and minimizes the appearence of shine.
• The antioxidant vitamin E protects against dehydration.
• Hydrolyzed wheat protein tightens the skin while giving a firming effect.
Directions for use
In the evening, apply some drops of the serum on the whole face and neck on a perfectly cleansed skin.