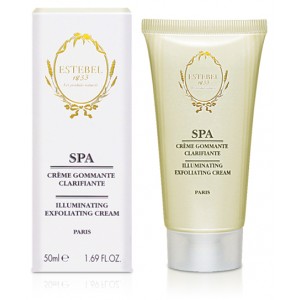 Illuminating Exfoliating Cream
Exfoliating is an absolute step when use any further skin treatment. Over time, the old cells will accumulate on the skin and prevent absorb any nutrients. Exfoliating products help to clear the accumulation of old cells, to make the skin can absorb the 100% of nutrients, increase the effectiveness of the product, make the skin more soft, smooth and firm.
Gently clear impurities on the skin's surface. Used regularly, it refines the texture of the skin and gives it a youthful and smooth appearance.
Ingredients & Effectiveness:
Kaolin
Sebum absorption, deep cleaning, weeds out aging cuticle and helps our skin softness and smoothness.
Hedera Helix
Contains vitamins, helps contracts the skin pores, soft skin, anti-inflammatory and sedative effects.
Dimethicone
Will not clog pores, make our skins as soft as silk.
Sweet Almond Oil
Mild, restore our skin with smooth and nourish.
Yarrow Extract
Help reduce inflammation, itching and eliminate any redness.
Arbutin
Effectively lighten sunspots and block melanin synthesis.
Licorice Extract
Calming, soothing and healing effects.
Horse Chestnut Extract
As antioxidant, improve blood circulation, helps contract he skin pores.
Directions for Use:
Apply the Cream in an even layer to a thoroughly cleaned and dry skin and exfoliate by circular motions. Rinse with warm water. We recommend to use subsequently the Illuminating Tonic Lotion Estebel SPA.
*Avoiding the eye contour area.
*Depend on different skin type, recommended to be used once per week.