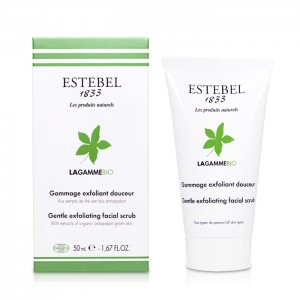 Gentle Exfoliating Facial Scrub
The Gentle exfoliating facial scrub ESTEBEL LA GAMME BIO, with extract of organic green tea, boost the cell renewal by eliminating the dead cells and the impurities on the surface of the skin.
Properties
• Organic green tea protects and tones skin with its anti-ageing and antioxidant effect.
• Organic shea butter's main property is hydration. It is a source of vitamins A, D, E, F and which bring an anti oxidizing action in order to regenerate the skin's cells. It helps to maintain youthful and luminous skin.
• Argan oil is recognized for its nutritive, regenerating and restructuring properties. Its antioxidant power offsets de-nutrition of the skin which is responsible for the ageing of cells. It brings back elasticity and shine to your skin.
Instructions for use
Apply the facial scrub once or twice a week on a clean, damp face. Massage with light circular movements avoiding eye contour, emphasizing the forehead, the sides of the nose and the chin. Rinse well with warm water.
Commitments of LAGAMMEBIO
Combining beauty and health, ESTEBEL LAGAMMEBIO has chosen ingredients for you, which are both natural and respect the consumer and the environment (approved by ECOCERT). LAGAMMEBIO products can be used on all skin types. However, if a reaction occurs, we recommend that you cease using the product and consult a doctor.