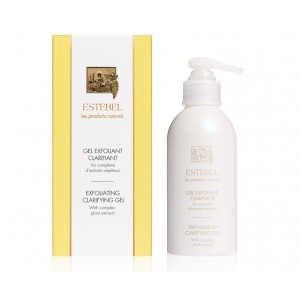 EXFOLIATING CLARIFYING GEL
The Exfoliating Clarifying Gel is a complete care product to obtain radiant skin. Its active ingredients gently eliminate dead skin cells encouraging cell renewal. Skin breathes better and products applied are more efficient.
Properties
The complex plant extract is made with liquorice, burnet, bearberry (arctostaphylos uva ursi leaf extract) and white mulberry, known for their lightening effects which favour depigmentation by inhibiting tyrosine activity.
The salicylic acid and its gentle " peeling" effect eliminate dead skin cells and stimulate cellular renewal. It helps smooth wrinkles and skin irregularities.
The kojic acid is an antioxidant which reinforce the lightening powers of the complex plant extract.
The mitracarpe extract helps treat skin spots and lightens skin complexion.
Direction for use
Apply the gel uniformly on face then massage in circular movements to remove dead skin cells. Can be used daily.