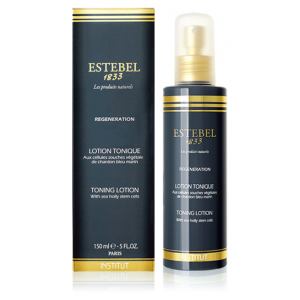 Toning Lotion with Sea Holly Stem Cells
The Toning Lotion is a real supplement to skin cleansing. It completes make-up removal by eliminating remaining make-up, impurities and dead skin cells. Its active sea holly plant stem cell complex has been enriched with provitamin B5, allantoin and aloe vera. It contributes to the production of skin collagen and moisturising.
Ingredients:
Plant stem cells
Anti-ageing and anti-radical characteristics.
Aloe vera
Stimulates the collagen and helps synthesize elastin.
Allantoin
Stimulation of cell growth and tissue reconstruction.
Provitamin B5
Helps with skin repair: it stimulates, like allantoin, cell growth but also has a calming and moisturising effect (reduces moisture loss and maintains skin suppleness and elasticity).
Directions for Use:
Apply toning lotion morning and night on a cotton pad after makeup removal or skin cleansing and before applying cream.