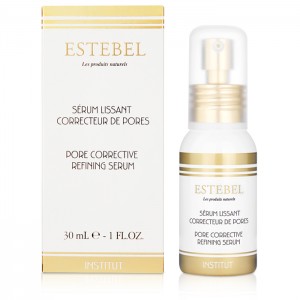 Pore Corrective Refining Serum
PORE CORRECTIVE REFINING SERUM (With Lotus Flower Extracts)30ml
The Pore Corrective Refining Serum is a perfecting skin care product. It contains moisturising active ingredients which stimulate skin cell regeneration and help fight against skin ageing while protecting your skin. After application your skin is immediately smooth and soft, pores are tightened. Its ultra-gentle pearly texture will eliminate dull complexion and imperfections giving you smooth skin.
Properties
This serum is made with well-known effective active ingredients including:
Lotus flower extracts (nelumbo nucifera flower extract), originating from tropical Asia and symbol of purity, with astringent and tonifying effects, tighten pores.
Tocopherol (vitamin E), a natural antioxidant which protects skin cells from free radicals for supple and firm skin.
Vitamin A esters release the vitamin by entering in contact with the skin's enzymes. Stimulating skin cell regeneration and allowing cells to fight against the skin's ageing process, giving it a better looking aspect.
Biosaccharide gum-1 reduces irritation and forms a deeply moisturizing protective film creating a micro-climate favourable for sensitive skin.
Dipalmitoyl hydroxyproline, an anti-ageing and long-acting moisturizing active ingredient. It remodels and corrects imperfections on the face and slows down wrinkles by protecting dermal fibres.
Directions for use
Apply on a cleansed dry skin. A small amount is enough for the entire face.
Commitments of ESTEBEL
ESTEBEL products are not tested on animals, but on people who volunteer. Results demonstrate that they can be used on all skin types. However, if a reaction occurs, we suggest that you stop using the product and consult a doctor. For better results, use the entire line of ESTEBEL products.