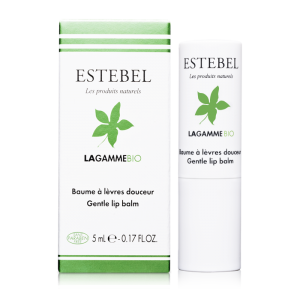 Gentle Lip Balm
With Vitamin E and Shea Butter
The gentle lip balm, with extracts of sunflower oil and shea butter has moisturizing and nourishing virtues. Vitamin E with antioxidant and antiradical characteristic is associated with plant squalene, which protect from dehydration.
Properties
Sunflower oil is extracted from the seeds of sunflower. It is especially rich in essential fatty acids, in particular omega 6, the main component of cellular membrane, as well as antioxidant vitamin E. It will reinforce the barrier action of thin lip skin all while maintaining skin moisture*. It will also soften and nourish lips.
Shea butter is known for its anti-inflammatory, soothing and irritation calming characteristic. It favours healing of cracked lips, revitalizes skin tissue and makes lip soft again. Finally, with karitene, vitamin A, it absorbs a part of UV rays and lightly protects lips from sun damage.
Vitamin E is known for its antioxidant and antiradical characteristics. It effectively protects cellular membranes and contributes to the youth and shine of lips.
Plant squalene protects the hydrolipidic barrier, avoiding dehydration and diminishing the effects of ageing.
*moisturizing of upper layers of skin
Instructions for use
Apply as often as necessary to lips.
Commitment of LAGAMMEBIO
Combining beauty and health, ESTEBEL LAGAMMEBIO has chosen ingredients for you which are both natural and respect the consumer and the environment (approved ECOCERT). LAGAMMEBIO products can be used on all skin types. However, if a reaction occurs, we recommend that you cease using the product and consult a doctor.