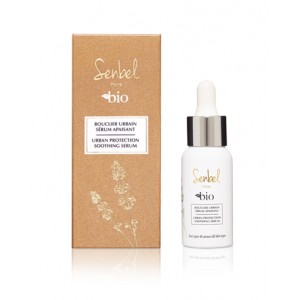 Urban Protection Soothing Serum
The Soothing serum protects your skin from external aggressions. Your skin is nourished, the complexion brightens from day to day and unifies.
Properties
・ Moringa oleifera extract has purifying effect, that can protect skin against urban industrial pollution.
・ Extract of hibiscus flower, with powerful antioxidant properties, is known to fight against skin ageing. It captures and neutralizes the free radicals resulting from oxidative stress. It has antioxidant, toning and moisturizing virtues.
・ Organic camomile is rich in anti-inflammatory and antibacterial molecules which help calm irritations of sensitive damaged skin.
・ Cucumber extract is rich in vitamins, trace elements and minerals. Very moisturizing, it also has a beneficial action on dull skin, bringing radiance and light. The vitamins it contains participate in the multiplication of skin cells. It also helps to purify and regulate skin.
・ Vitamin E (tocopherol) serves as a protective barrier against the harmful solar radiation and participates in protecting cell membranes and improving blood circulation.
Directions for use
Apply every morning before day cream on a cleansed skin, by circular movements, till complete penetration of the serum.